Make a Difference in March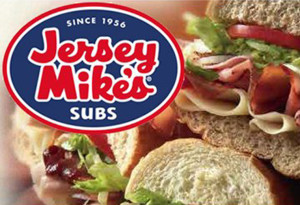 Mark your calendar and invite your friends to join you for a delicious sub at Jersey Mike's during the month of March (especially the 25th), to make a real difference in the lives of homeless, hurting, neighbors across our community.
Throughout the month of March, every time you visit a Jersey Mike's, you can support The Union Mission Ministries.
GIVE THE CHANGE from your next jersey Mike's Subs meal to The Union Mission by rounding up your purchase to the nearest dollar.
GIVE $1.00 to The Union Mission and receive a coupon for $1.00 off any regular or giant size Jersey Mike's sub on your next visit.
GIVE $3.00 to The Union Mission and receive a coupon for a free drink and chips or your next dinnertime purchase at Jersey Mike's Subs.
Eat at Jersey Mike's on the "Day of Giving," March 25th
On this special day, each of the 14 Hampton Roads locations of Jersey Mike's Subs will donate 100% of its sales to The Union Mission Ministries! So get a sub and share the love! Visit any of these Jersey Mike's in March to benefit The Union Mission.
NORFOLK
1211 N. Military Highway (Broad Creek Shopping Center)
725 E. Little Creek Road, #510
8245 Hampton Blvd., Unit #B
VIRGINIA BEACH
5832 Northampton Blvd., #401
4224 Virginia Beach Blvd. (The Willis Shoppes)
687 Lynnhaven Pkwy., #110
1909 Landstown Centre Way, #115 (Landstown Place Shopping Center)
1170 Amphibious Dr., Bldg. 3443 (Food Court Navy Exchange)
CHESAPEAKE
733 Eden Way North, #412 (Towne Place at Greenbrier)
2400 Chesapeake Square Ring Rd.
SUFFOLK
6216 College Dr. (Harborview Area)
1910 N. Main St., #130 (Downtown)
PENINSULA AND BEYOND
109 Coliseum Crossing, Hampton (Coliseum Crossing)
4655 Montecello Ave., #202, Williamsburg (Marketplace Shoppes)
Thank you for supporting The Union Mission through Jersey Mike's Subs and their "Month of Giving!"