Jersey Mike's "Making a Difference" for the homeless in our community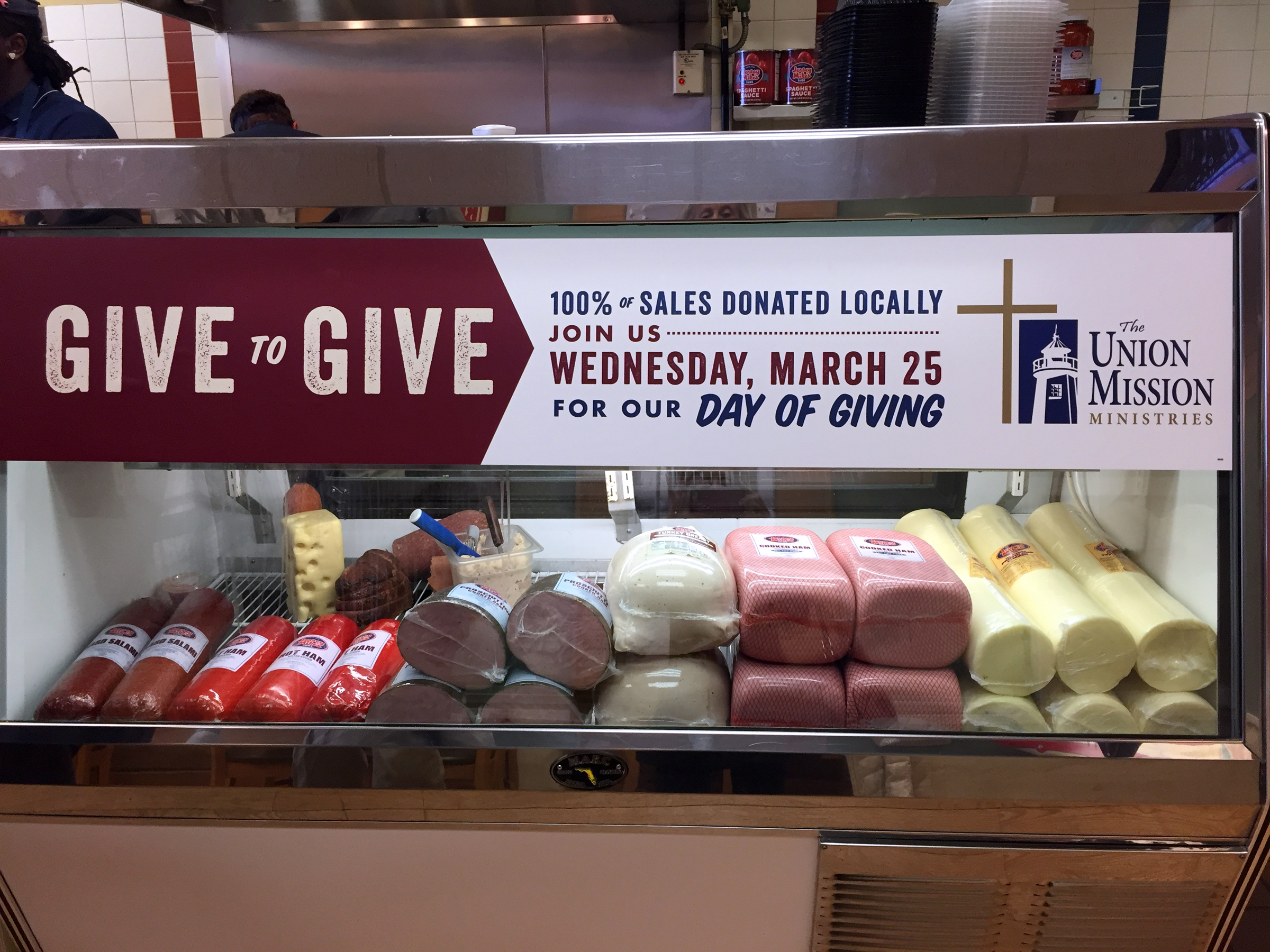 UNION MISSION MINISTRIES
CONTACT: LINDA C. JONES
PUBLIC RELATIONS DIRECTOR
(757) 627-8686
FOR IMMEDIATE RELEASE
 
HELP NOURISH AND FLOURISH: AT A SUB AT JERSEY MIKE'S
This March's "Month of Giving" Supports The Union Mission, Care for Homeless and Hurting Neighbors across Hampton Roads
 
Norfolk, VA, Feb. 25, 2020 – The Union Mission is joining forces with Jersey Mike's Subs restaurants throughout the Hampton Roads community, and in Williamsburg, for the 10th annual March "Month of Giving" campaign to fund local charities. During the month of March customers can make a donation to The Union Mission at participating Jersey Mike's restaurants and help provide food, clothing, a safe place to sleep, and job and life skills training for our most vulnerable citizens.
Mark the Date: Jersey Mikes will kick off its campaign by providing and serving subs to the homeless men, women and children residing at The Union Mission on Wednesday, March 11th at 11:30 p.m.
The campaign will culminate in Jersey Mike's "Day of Giving" on Wednesday, March 25th, when 14 local Jersey Mike's restaurants will give 100% of the day's sales – not just profit- to The Union Mission.
 
"This is our fourth time partnering with Jersey Mike's for their 'Month of Giving' and we are so very grateful. Besides making a great sub, they have made a great difference in our ability to provide for the hundreds of homeless men, women and children we serve every day," said Rev. John Gray, Executive Director of The Union Mission.
In 2017, the last time the Mission was selected as the beneficiary of the "Month of Giving," local Jersey Mikes stores donated over $56,000 to the Mission. "Since we do not receive any state or federal funding, their generosity goes a long way to helping us provide for our homeless guests," Gray said.
 
On the "Day of Giving," March 25th, local Jersey Mike's owners and operators throughout the country will donate their resources, and every single dollar that comes in, to more than 200 different charities including food banks, military organizations, youth organizations, hospitals and more.
"This March, we celebrate out 10th annual 'Month of Giving,' an idea inspired by one of our local franchise owners," said Peter Cancro, Jersey Mike's founder and CEO, who started the company back when he was only 17 years old. "Since then, we have raised more than $31 million with the support of our generous local owners, crew members and customers. This March, I invite you to come in and celebrate this milestone with us, and make a difference in your community."
For more information about Jersey Mike's Subs "Month of Giving," please visit: www.jerseymikes.com/mog.
About Jersey Mike's Subs
Jersey Mike's, a fast-casual sub sandwich franchise with more than 2,000 locations open and under development nationwide, believes that making a sub sandwich and making a difference can be one and the same. Jersey Mike's offers A Sub Above®, serving authentic fresh sliced subs on freshly baked bread – the same recipe it started with in 1956 – and is passionate about giving back to its local communities. For more information, please visit Jersey Mike's online, or follow us on Facebook, Instagram, and Twitter. Join the conversation at #JerseyMikesGives.
 
About The Union Mission
The Union Mission, founded in 1892, is the largest homeless shelter in Hampton Roads serving 400+ homeless men, women and children daily. In FY 2019, The Union Mission provided food, clothing, shelter, and job and life skills training to 2,100+ individuals. The Union Mission has never received any state or federal funding but relies solely on the generosity of the community. For more information about The Union Mission, please view our website, or follow us on Facebook, Instagram, and Twitter.