Football was his future, or so Carlton thought. But in life, as in the game, "you get knocked down. To be able to get back up is something that motivates me."
Born and raised in East Hartford, Connecticut, known for its gunplay, drugs, and gangs, Carlton grew up in a Christian home. But his real faith was in football.
His talent and determination as a defensive lineman made him a standout star throughout high school and earned him a scholarship to play at Central Connecticut State University. Inspired by his own life's traumas, he planned to study social work and criminal justice, but as a star athlete, "every sin was accessible," and he admits he indulged in his on-campus fame more than classes.
But by his junior year, Carlton "had fallen so far away that I felt like spiritually and morally my life was on the line." He knows his crisis of conscience "was the Lord's intervention," but being a great football player had always been his identity. "That was my passion! I wanted to make it to the NFL one day!" Still, Carlton decided to walk away from his lifelong dream.
"I went from being a rising athlete to a college dropout before I was 20."
Carlton felt lost without football, but back in Hartford he reconnected with godly friends and family and he returned to church. As he "learned to notice the Lord in every situation," he began to rely on His guidance and His Word. The idea of returning to school came up, but now Carlton knew that his focus could not be football alone. His prayer was, "Lord, if You allow me to play the game of football again, I'll do anything that You need me to do."
In July 2017, Carlton was accepted at his dream school—The University of Connecticut—and "at this very moment that the Lord became real to me." At UConn, he would study Sociology, hoping to learn to help others who grew up in traumatic environments like his. And it wasn't long before Carlton and the Huskies' head football coach were talking. Carlton proved himself as a walk-on, and his effort paid off in a full scholarship that covered his tuition, as well as room and board.
Though he was playing great football again, his perspective was different. Carlton focused on his classes, got baptized in 2018, and co-led Bible studies on campus and eventually in his own crowded living room. He also exercised his leadership and faith as the football team's co-captain for summer workouts.
After graduating from UConn in 2019, he hoped to play pro football, but his dream never became reality. He admits that he was crushed, even mad at God for a while. But as he prayed and fasted about his next steps, Carlton felt the Lord directing him to reconnect with his father in Virginia Beach. Living in Connecticut and playing football were all he had known, so it was a big step to leave Hartford, but Carlton knew that if God was leading him this way, He would provide. Though telling the women of his family was a difficult and tearful experience, in October 2020 he packed his truck with everything he owned and drove nearly 500 miles to his father's house.
Though Carlton, now 25, and his dad both were hopeful, "it wasn't the immediate connection that I thought it would be. We had been apart for so long, a decade. We didn't see eye to eye on everything." After eight months, Carlton told his dad he was going to move out.
When Carlton arrived at The Union Mission in August 2021, he told the David Development Program Director, "I'm gonna be out of here as soon as possible." But Lamont Harris urged him to slow down. "You just got here. Be patient with God," but Carlton's deep disappointment left him wondering if he could still trust the Lord.
On his second day here, Carlton applied for two part-time jobs, one night shift and one weekend shift. With his degree in sociology, both were glad to hire him, and that week he began working at two different group homes that help youth with behavioral difficulties. During his days in the shelter, he read the Bible and prayed often.
But after two months of 70-hour work weeks, Carlton was exhausted and even more anxious to get out and get on with his life. In every meeting, Harris continued his gentle encouragement to Carlton:
"Young man, don't leave too soon. God is doing something in you and for you while you're here."
When he was promoted to full-time work at one group home and was able to quit his second job, Carlton recognized God's sustaining hand. He also remembered what had been spoken over his life—and what he had promised the Lord about serving Him. "The Lord was speaking to me all the time, but I just wasn't hearing. But I got so tired that I had no choice but to hear Him."
Carlton knew that God had led him to Virginia, but living in a homeless shelter made it harder for him to understand why. "I've been here over a year now, Lord. What now?" He was not expecting the four words he heard: "Go back to school."
He wasn't sure he heard God correctly. Carlton finally was working, actually thriving, in a job that gave him a chance to apply all that he'd learned in college. He was helping people, making a real difference in their lives, which had always been important to him. Plus, he had been out of college for two years, and no one was pushing him to earn a master's degree—but God. "Go back to school" was the only answer to his arguments. "And one thing I've learned in life is, the Lord doesn't make any mistakes."
One November day as he drove by a billboard for Regent University, the tagline "Christian leadership to change the world" snagged Carlton's heart. Not wanting to confuse a literal sign for a spiritual sign, he fasted for a day or two, and prayed with Harris about what God was telling him. Then Carlton picked up the phone and called Regent. "The crazy part is that I had no idea what was going to come next. This was not my plan."
"I have an undergraduate in sociology and the Lord is leading me to go back to school," he told the admissions counselor, "but I don't know what I want to study." As they spoke, he admitted he needed help making that choice, but that he had been reading in Isaiah "where the Lord wants to reestablish government." As she detailed the M.A. programs in government, the focus on law and public policy quickened his spirit.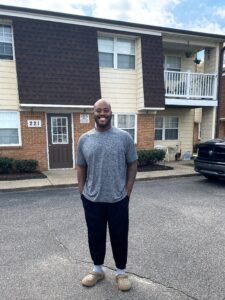 The counselor prayed with Carlton and a few hours later, his application was submitted. A few days later, he was accepted and filing for financial aid.
"I've just learned that you have to do your part. You hear the Word of the Lord, you believe God, and you take a step of faith. And then He moves."
It wasn't long before Carlton was moving again, too. The Mission helped him find an affordable apartment in Norfolk, and earlier this year he moved into his own place. Just days later, he started his master's degree studies at Regent.
"Literally, it has just been like a rollercoaster. As I am looking back over everything that the Lord was taking me through, I want to tell my story of the overflowing goodness and mercy of the Lord. I'm excited to have a profound new outlook on life now. I just want to be a beacon of His light. It's my heart's desire to change the world, simply by talking about the Lord and what He's done. All I can say is, God is faithful. The Lord did this!"