Contact Information
THE UNION MISSION MINISTRIES
5100 E. Virginia Beach Blvd.
Norfolk, VA 23502
(757) 627-8686
MAILING ADDRESS:
P.O. Box 3203
Norfolk, VA 23514
HOPE HAVEN
3000 North Landing Road
Virginia Beach, VA 23456
(757) 427-1500
---
Union Mission Campus Map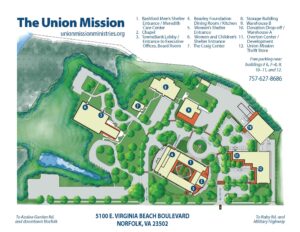 Click map to download PDF.
Need Help?
Need Prayer?
View Our Directory
Print out a UNION MISSION INFORMATION CARD to give to a homeless person in need.
Contact Form
To connect with someone in our ministry, please complete the form below. Include your name, phone number, and email address, as well as the information you wish to receive. Someone will contact you in the near future. For even faster service—or if you need emergency shelter—call us directly at (757) 627-8686.
Please note that our ministry does not offer food distribution, utility or rent payments, or other community assistance.