What's happening at The Union Mission?
It's easy to stay informed about all that's happening here at the Mission and our other ministries through our newsletters, videos, and social media posts. We hope you'll check in and follow us regularly!
Our Mission Network Newsletter
Mission Network is our bimonthly newsletter filled with stories of lives redeemed, information about Mission programs and partnerships, and engaging ways you can help!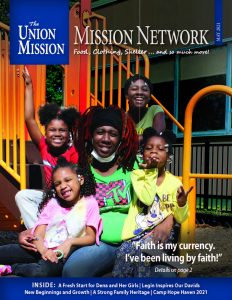 Click here to read our latest newsletter! 
Click here to read some more recent newsletters and stories about The Union Mission.
Sign up to receive our bimonthly newsletters.
Social Media
Follow us on your favorite platforms:
A Video Overview