Jacob's life was conceived in trauma. Born in 1978 into an incestuous family in Michigan, his childhood was confusing and chaotic. "It all started with my grandpa, who was also my father." Jacob, sadly, was not alone in the circle of abuse.
As an infant, Jacob was taken involuntarily from his mother and was raised by his aunt and her husband. But the seeming stability of their military family was just an illusion. His uncle was in the Navy, so the family "bounced around" from state to state—Michigan, Wisconsin, California, Illinois, South Carolina, and "Norfolk, Virginia, about five times." No matter where they lived, Jacob's learning disabilities kept him in special-ed classes. "I was always way behind in school," and their frequent relocations meant "I never had real friends." The only spiritual influence in Jacob's home was his aunt's Ouija board.
And life got worse when his "dad" was away on deployment. "The woman I thought was my mom also wanted me to act as her husband when he was out to sea. I was getting sexually and physically assaulted when I was about 6." She also forced Jacob into drinking and doing drugs with her by the time he was 9. She plied him with marijuana and oxycodone, and "she gave me liquor, either vodka or rum. As a kid I was drinking a 6-pack of those little Miller Lite cans," and his aunt would often throw bottles at him when she was inebriated. Jacob had nightmares about the assaults and violence. "I would go to sleep crying. All through school I had flashbacks of when my mom raped me and then molested me. That was torture." He learned martial arts to defend himself, but the cycles of abuse remained a secret.
"All through school I had flashbacks of when my mom raped me…."
Predictably, Jacob's adult life went off track early. After graduating from high school, he and his fiancée, a classmate, had a daughter, but their family quickly fell apart. "I was fighting for my daughter a lot," but trying to keep custody was a challenge with the realities of alcohol, drugs, and homelessness.
By his mid-20s the only parents Jacob had known had died, and he was living on the streets. In spite of that, he still managed to hold a variety of responsible jobs. He got licensed to work with propane as well as heavy machinery like back hoes, fork lifts, and payloaders. He became "a certified knife trainer—I've got kitchen skills!" and that earned him a position as a kitchen shift manager at a fast-food restaurant.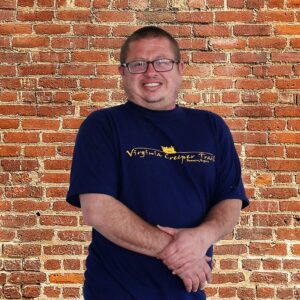 "But I'd lose jobs every now and then. They didn't last because of my disability," plus, being homeless, he had no permanent address. All the while, Jacob continued to numb himself with drugs and alcohol. "I was clearly addicted," he says. "Once you start drinking, you already know."
"Once you start drinking, you already know."
One of his street cohorts told Jacob about The Union Mission, and he first came to stay in 2011. While in emergency shelter, he was able to get clean and sober, cold turkey. And as part of a six-month discipleship and after care program, he was able to immerse himself in chapel and Bible study. He built trust with the men in shelter leadership and considered them to be mentors, almost family. Jacob also worked part-time here at the Mission and in outside jobs. The money he earned enabled him to save and to pay his child support for his daughter.
But in 2014 "I started to drift." Jacob met his future (now ex) wife online, and he moved out so they could live together. Jacob soon found he had reentered an all-too-familiar life of drinking, drug abuse, and dysfunction that lasted six years.
When "things really got out of hand at home" in 2021, Jacob found himself homeless again—and found he was still a magnet for the vices that had ruined his life. He'd considered moving to Louisiana to try to get to know his birth family, but that never worked out. Jacob was able to return to the Mission briefly, but then moved in with another homeless "friend" from work who stole his $4,000 in savings and tried to molest him. "I just want to be accepted, to be loved," he says, but "I make mistakes with the people that I get up with. I think that they're my friends," but often they take advantage of his trust.
Having lost his place to live and his job, Jacob cashed his final paycheck and moved into a tent commune with a group of other homeless people behind a 7-Eleven. He pawned belongings out of his suitcase to the day workers who could give him cash to supply his addictions.
When a shelter supervisor he trusted learned where Jacob was, he went to the commune. "I was drinking so much, and then I looked up there's Rev. Washington! When he kicked that bottle away, I had to man up!"
When he kicked that bottle away, I had to man up!"
Realizing just how far he had fallen, Jacob bawled to his AA/NA sponsor: "I don't want you to see me like this. I want you to remember me the way I was." But instead Rev. Washington offered Jacob a ride back to the only safe home he had ever known. Once back at the Mission, Jacob "got himself straight. And ever since then, I've been here."
"God gave me a chance before to try to do it on my own, but I've seen that I can't do it on my own. I still need help. When Jacob does what Jacob wants"—he gestures downward—"SHOOMP! But if I listen to Him, it's good. I had to come back here, and now the doors are opening!"
After our Wellness Team and the Sentara Community Care Center physician on site in the Bashford Men's Shelter evaluated Jacob's health, they coordinated medical care for his anxiety, depression, mood swings, restless leg syndrome, and PTSD. "I can go to sleep now with medicine, and that really helps!"
And Jacob didn't hesitate when his case manager, Rev. Evans, recommended that he join the brand-new Trauma Workshop led by Dr. Eiesha Williamson and Glascow Health Services. Almost immediately, Jacob felt safe enough to share his story with the small class of shelter men who'd had their own difficult times. It marked the first time in his 44 years that Jacob had openly discussed the painful experiences of his childhood.
"All my life, I thought I had done something wrong. I was always asking, Why me?"
"All my life, I thought I had done something wrong. I was always asking, 'Why me?' 'When is this all going to stop?'" But in the six weeks of classes "I was actually able to express everything that happened to me in life. Before then, nobody listened to me deeply."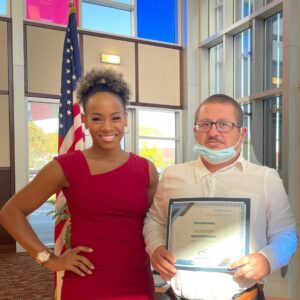 Now, thanks to the workshop, Jacob better understands his mistakes, misguided relationships, misplaced trust, and misspent years: "I chose the path of drugs and alcohol to try to hide my feelings all these years about being raped when I was young." Sometimes it was hard to open up, but "I was ready to be done with it! To move on!"
As the finale of the workshop, a courtroom-style presentation put Trauma on Trial, where it was found guilty of sidelining so many lives for so long. There, Jacob and his brave classmates shared their horrific histories and their hopes for a healthier future. "Have the courage to speak up and be honest!" he urges. "When you tell your story, that moment of freedom can change your life!"
Less burdened from carrying such a heavy secret, Jacob has learned how to step back, identify, and cope with his negative feelings and tempting behaviors better. "I don't need to pick up that one lonesome drink or that one little puff-puff. I don't want to be around it anymore."
"I know that if I am here, I can have a better future."
Jacob has committed himself to relearning how to live a healthy and productive life. Staying at the Mission, following the rules, "being in the Word of God," and taking the trauma course have helped make him feel safe again. "I wish I had stuck with this path originally. Who knows where I would have been? I know that if I am here, I can have a better future."
"If Dr. Williamson has more classes, I am going to take them!" Jacob also is hopeful that with the latest diagnoses and documentation from his healthcare professionals from Sentara, Glascow, and the Mission's Wellness Team that his Social Security disability appeal will be approved.
"I don't know what God has planned for me," Jacob says. He'd love to reconnect with his daughter and prove to her than he can live without alcohol. He'd like to reconcile with his ex-wife if she can get clean, too. Jacob hopes one day to meet his biological mother, as well as the siblings he's only talked with, and to learn more about his Chippewa heritage. But he's willing to go slow. "I need to take time, to be wise. I'm not going there again—trusting everybody."
But he does trust the Mission staff to advise him well. "If you need someone to help, any one of them will talk with you, will pray with you…. Whatever they tell me, I'm more than willing to do. I know they are going to help me."
As he continues to heal and grow, Jacob has enjoyed helping out around the Mission. "I'll just volunteer on light duty around here until I figure out what's going on," he says. But Jacob is optimistic and hopeful. "I'm going to let the Lord decide what He wants for my life now. Once you start going to the Lord, He opens up the way and guides you along. He's there!"