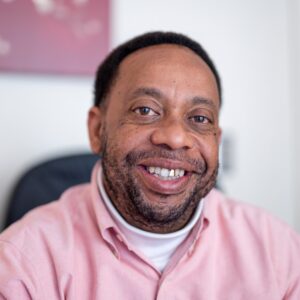 Lamont Harris directs our David Development Program designed to help our youngest Bashford Men's Shelter guests overcome homelessness. Learn how this Pathway to Purpose is training young homeless men to live productive, meaningful lives.
So, Lamont, give us an overview of the David Development Program.
It's our pathway of services and resources for all our young male guests 18 to 31, many of them homeless for the first time. We try to weed out the root causes of their homelessness before it becomes recurrent. We teach them about work, relationships, life skills, and good mental health—as well as introduce them to a relationship with the Lord.
How is that different from our other shelter services?
It's similar, but it provides more personalized attention. Our David Development Program also focuses on healing past hurts, improving current conditions, and providing direction for each young man's future. Instead of trying to find a quick fix for one problem right now, the program focuses on implementing lasting solutions so the guest can resolve the issues that caused his homelessness and be successful.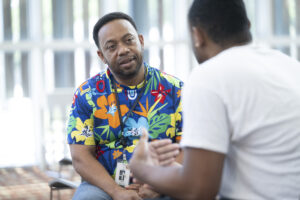 As a mentor, I provide examples of my personal experiences that are similar to some experiences these young men had in the past and are currently experiencing. This makes me relatable and lets the guests know that I understand a lot of the things they are going through in their lives. God prepared me to help them with first-hand personal experience. I also previously worked at community centers and schools as a counselor, so my professional experiences have helped me compile an extensive list of resources that are geared toward their age group and current situation.
What has caused these guys to become homeless?
It is different with each person, but many of the young men were homeless because their family put them out for not being responsible. In the last few years, more are coming from harder life situations: mental health facilities, foster care and prison. A lot of them are referred to us. The word is out that you can come to The Union Mission and get real help.
What services and skills do you usually work on first?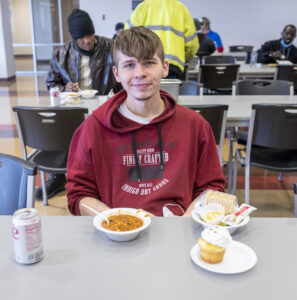 Developing a relationship with God is the heart of our program, so that is the first thing we focus on. Providing our guests with the Word of God helps them know they are worthy and that their Father in Heaven has a plan for their lives. Then we then identify and address barriers to employment and housing. Some guests do not have a photo ID or a birth certificate. Many never finished high school. Some have never had a job, an apartment, or a bank account before. We assist them with obtaining the necessary documents and basic life skills as a first step to overcoming unemployment and obtaining permanent housing.
But other, less obvious barriers take more time and effort to overcome, right?
Many of the David Development Program participants are very guarded when they arrive at the shelter. They only come to The Union Mission because they don't have anywhere else to go.
I have found many of them have been beaten down by life. People they trusted told them they would never be any good and they believe it. They do not fully know who they are, and they have low self-esteem. Others are tough from protecting themselves by any means and living in survival mode: sleeping wherever they can, stealing to eat or support their habit. Some guests have been arrested for being in the wrong place or for assault because they drink too much alcohol, use illegal drugs, or are not taking their prescribed medications.
We often complete a physical and mental health assessment with a primary care physician or a counselor. These professionals can determine whether guest has a medical illness or disorder. Once they are assessed, the shelter can help them with their medication management.
You probably see that pattern often: guys who never had someone invest in them.
That is an issue we have with some of the young men entering the program. They do not believe they can have a good future. It is heartbreaking, but I know God has a plan for their lives and I am glad they are here.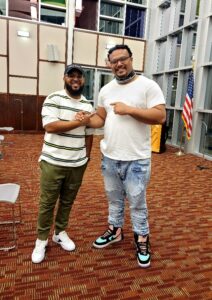 We hold monthly group sessions with Legin, who is a pastor and hip-hop spoken word artist. In one meeting about forgiveness, Legin talked about his own stormy history with his father. As I watched as one of my guests, whose dad is a mean alcoholic, his body language changed and I could see that he was ready to open up. We prayed for him that night and connected him with a therapist to help him process his emotional pain. With counseling and spiritual support, he is learning new relationship tools and coping strategies to become healthy and whole.
I work hand in hand with our young guests through these processes the entire time they are here with us. I also let my guys know that if they need assistance after they leave our program, I am available. One thing that is great about David Development is that we can offer that aftercare.
About how long do most of the men benefit from staying here?
There's no cut-off date, but I'd say almost all of the guys have been housed within 60 to 90 days. Since 2021 when we revamped the program, of the 129 guests who came through, 108 found affordable housing or were reunited with family, and most of the others left voluntarily. Only a few guests were asked to leave for negative reasons. Thank God, most men do not get in trouble. Also because of the success of the program it shows the guests it is possible to have a better life. My heart is overjoyed when I look at the program's results. The guys are really doing what they're supposed to be doing.
That includes working, right? Doesn't being homeless keep them from finding good full-time jobs?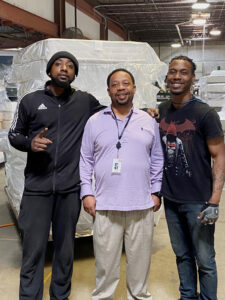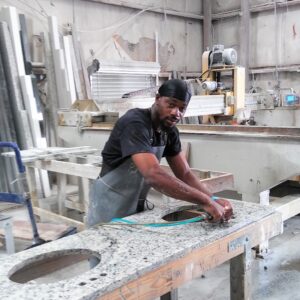 We have great relationships with business partners across the area, and have many employment options. Since the men in our program have established a track record for being reliable and hard workers, many of our business partners contact us when they have openings.
David Development Program guests have worked in every kind of job: sales, delivery, warehouse, manufacturing, food services, restaurants, human resources, drivers, customer service, commissary stocking, retail, security, hotel and hospitality, shipyard trades. Some have even joined the military.
These are their first "real" jobs for some guys. And with many employers starting pay a living wage rate, our workers recognize that they can build a career if they do well. Some of the companies have promoted our guys to supervisory and management roles. We even have some former guests who are now employers, and they contact me to find good hires for their business.
What about the guys who didn't graduate from high school?
Approximately 40% of the men in our David Development Program did not graduate from high school. We can help most of them find jobs, but it can limit their ability to find good, secure work. Thankfully, we now have a local contact for getting our guys into a GED or diploma equivalency study program.
Do we also help with continuing education?
We work with a lot of schools—Tidewater Community College, Centura College, ECPI and Regent—to enroll guests in continuing education courses. A few guests have taken online classes. I have four former David men currently in school, and many others have completed their programs. Some are studying computers or trades like engineering, welding, HVAC. I also currently have guests in a carpentry work-study internship and in a culinary arts program. Many of the schools we work with have great job placement rates for their graduates—up to 90%. We even have a few former guests who are in school and working!
Does the David Program include vocational aptitude testing?
No, but that's a good idea. I used to do that as a guidance counselor. I will work to add that to our program.
Besides a strong work ethic, what other life skills do these young guests need to learn?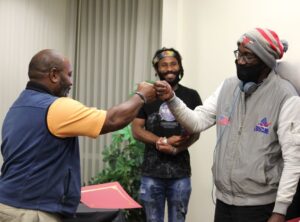 It varies from man to man, but the most important thing is that we teach them is to take care of themselves. Some of these guys have never had that life training, that man training. And if they do not learn to take care of themselves, the odds are good that they'll be homeless again. Our shelter offers a lot of classes and workshops to help our participants become more healthy, more confident, more independent. The men who can get past their anger issues and traumas, as well as take responsibility for their decisions, those are the ones who really thrive!
The most important thing is that we teach them is to take care of themselves. … If they do not learn that, the odds are good that they'll be homeless again.
Last year about a quarter of your men were parents themselves.
Thankfully that's lower this year! I asked one new guest if he had kids, and he said, "Mr. Harris, I'm only 25!" That's good, I told him. You can work on you. A few do have children, but they have good relationships with their kids and support them voluntarily. They want to be good fathers without a court order.
Do these guys see you as a father figure? Or as Uncle Lamont?
Some do—and I do not want to take that role away from family—but some of these guys never had a father. Most of them grew up in single-parent families, with mom or grandma. There are also some who were raised just by their fathers. But often because of the lack of verbal and physical affection from them, the father-son relationships are strained or nonexistent.
Sometimes the guys tell me, "You're closer to me than my dad." I can remind them that if their father was not a good dad, he learned that from someplace. His dad was probably like that to him, so they shouldn't be too hard on their father. And if nothing else, even if your father didn't teach you everything right, he taught you what not to do. If your dad made you feel bad with his words and actions, decide that you will not leave here and repeat those same mistakes. We want to break that pattern.
How important is the two years of aftercare that's built into the program?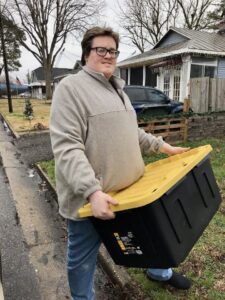 It's really critical. Aftercare lets us maintain the relationships we have built and follow up with these young men after they've left the Mission. It's one thing to obtain housing. It's another to sustain housing. Our aftercare check-ins help the guys keep their new lives on track and heading in a good direction.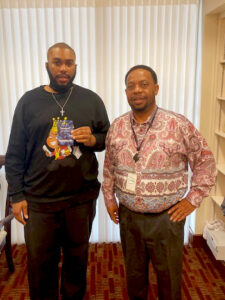 We can also offer advice on jobs, give them life skills, budgeting, or spiritual support, or aid with benefits, insurance, legal, medical, or other resources they may require as they become more independent. We can keep them connected to counselors through partnerships we have built at the Mission. On average, once a month I encounter a former David participant who may need some help with rent or utilities, but I have not found many in real need. On the whole, they are really flourishing and working on their futures. And that's a blessing!
Last year you had a lot of hopes and dreams for the David Development Program.
Yes, some plans have come true, like the mental health support! It has made a tremendous difference! I hope our partnerships with these counseling providers can grow even more. My guys who have been involved with them are really excited about the opportunities of an expanded partnership and more assistance.
I am always thinking of more ways to improve and expand the program. A few things that are at the top of my list:
I would love to see us offer an in-house substance abuse program. So many of our young guests tell me they have problems with alcohol or drugs when they walk in the door. Right now the shelter has a zero-tolerance policy, but addictions can be hard to overcome when they are working toward recovery. With Sentara's Community Care Center and the peer-to-peer relapse prevention programs we have in place, I hope that policy may change to allow participants more grace as they work towards sobriety.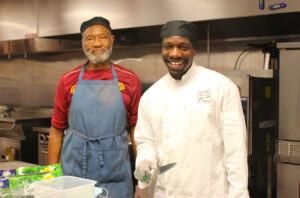 I would like to hire a David Development Assistant for the program. He could help keep track of the guys' progress both in the program and in aftercare. He could also schedule sessions for guys in aftercare to come back to talk with current guests. It would be a peer-to-peer support as they tell how the David program helped them and how they've made it. We have guys doing amazing things with their lives! I would love to have them speak to our group, and if they are in a very stable place we could assign them to encourage a current program participant.
We are seeing more young men coming to the Mission. We currently have not set maximum number of participants for program, but as the only full-time person assigned to David Development, there is a limit as to what I can do. It takes a village.
One more thing we could do with more assistance is take time to focus on building community support and finding more business sponsors. I would love to find some sponsors to fund off-campus outings for the guys.
Last, I would like to offer more in-house educational enrichment, relationship classes, and specialized training.
I have big dreams for the David Development Program, but I know it will take more support. I pray that we can find partners who share our vision to help homeless young men fulfill the promise of their potential!