For the first time in 25 years, Earl has his own apartment!
Since 2017, the 63-year-old has been working toward the goal of independent living with the RECLAIM staff and Transitional Resource Specialist Michael Marshall. The life-skills training, health tips, and financial coaching he's received have prepared him for this day.
Like most of our shelter guests, Earl has seen his share of trouble. He would rather discuss the grace of God than his wayward years. "I have known His forgiveness over and over! I thank the good Lord for keeping me and for all His tender mercies."
Earl is expectant as he arrives at the Norfolk Rehabilitation and Housing Authority, which coordinated his new Section 8 housing. There's a lot of paperwork involved, but Marshall and the NRHA Occupancy Specialist assist with every form, from lead paint to housing discrimination to how his affordable monthly rent is determined. As he signs his final sheet, Earl points upward and exclaims, "Thank you! God of mercy, thank you!" He closes up his packet of important papers, excited to preview his new home.
A six-minute drive from downtown, his apartment complex buzzes him in. The building, originally a soda bottling warehouse, was retrofitted in 2006 to become Hampton Roads' first permanent supportive housing community. It has 60 subsidized, affordable units for low-income residents. Earl is glad to learn that his new home is on the quieter second floor.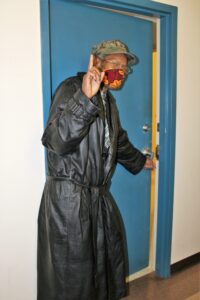 His studio apartment has a cheery blue door with a small gold plaque noting Bank of America as the corporate sponsor. It's small and semi-furnished, and the Mission Thrift Store will help him with household goods for his full galley kitchen. Everything is clean and in perfect working order, and a sunny window overlooks a greenway. "And praise God!" Earl says as he opens a door. "I finally have my own bathroom!"
This public housing complex is for single adults without children, so Earl must live alone in his apartment for at least a year. That's great news to him. "I'm single and loving it!" he says, but adds that he's not really alone. "Jesus is my companion, 24/7. That's my love, right there!"
Earl appreciates all the help he received at The Union Mission, but he'll really miss the chapel services: "My Lord, that's what's kept me. That's been like family!" But he'll have plenty of classical music, Christian radio, and time to focus on the Word of God. "Being by myself, wow! I can have boot camp alone with Jesus. That's just beautiful!"
Welcome to your new home, Earl! We are happy to have been part of your journey!