Dena never expected to find herself living in a homeless shelter, let alone living in a homeless shelter with her four girls and just a month from delivering her fifth.
But that's exactly what happened.
Born in Richmond and reared in Hampton Roads, Dena, 34, had always been independent. She was raised by her grandmother, a math professor at Norfolk State University, until she was 10. In and out of foster care through her teens, she vowed to make a better life for her own family. She graduated from Oscar Smith High School, earned her associates degree from Tidewater Community College, worked hard and trained as a massage therapist, and had her own home. She took good care of her girls without much support from their dads.
But last fall she "was falsely incarcerated" after getting drawn into a physical fight with a family member. It was part of a custody battle, she says. "I'd never do anything to hurt my girls!" but a protective order kept her from seeing her kids during the two-and-a-half-month incarceration. The investigation finally showed no evidence of neglect or child abuse. After principal at the girls' school vouched for Dena's parenting skills, she was released on her own recognizance and granted full custody.
Dena rented them a hotel room for a while, but the money was running out. Even with extended family in the area, she preferred not to be subject to their control or schedules. "I didn't want to take the easy way out, and have them feeling sorry for me," she says. "I wanted to hold my head up." Besides, Dena adds, "how can you better yourself when you're consumed with living someone else's life?"
In November 2020, Dena, eight months pregnant, and her four girls came to The Union Mission.
"So many people won't ask for help, but a closed mouth doesn't get fed."
It was a hard transition for someone so independent, but "we needed to focus on our future as a family," she says. Instead of spending what little money she had on rent, food, clothes, and other necessities, staying at the Women and Children's Shelter gave Dena the help and the time she needed to build a better life for her and her girls.
"God took care of all our needs at the shelter!" Dena says. "It was a huge relief, though I had to get used to it."
They stayed in a spacious, comfortable, brightly decorated room with bunk beds and lots of window light. "This was our home," Dena says, noting that they took pride in making sure it always looked its best. They loved the tasty meals in the dining room, and the staff worked with them to be sure no one was allergic to anything they served. Her oldest three girls attended school virtually. The shelter provided all their school supplies for them, and even though Dena sometimes had to push the girls to complete all of their online assignments, they earned good grades. Despite COVID concerns, they always felt safe in the shelter. There were always mentors to talk with, and the regular schedule made life feel normal.
No one liked the 5 p.m. curfew, but the evening Bible studies made the nights more interesting and helped reinforce Dena's Christian beliefs. She grew up in the family church that her cousin pastors in Norfolk, but "I dabbled here and there," checking out Islam and some other faiths. "I was never denying the Lord," she says.
"My faith is my currency. I've been living on faith!"
"Every night at the shelter, they were expounding on the principles of the Bible." It was like putting a plug into an electrical outlet, she says. There was a "connection" that "empowered" her. "The lights came on for me," Dena says, and her faith became not just a concept, but a reality. "There's a level of finding yourself in the Lord here at Mission."
"And now we're to the point where the kids know it, too. Being at the shelter kept them in the Word at a level they can understand."  Nightly devotions and chapels helped reinforce important morals, and Miss Ritchie, a shelter supervisor, introduced them to a kind of Bible "Jeopardy," which the girls loved, and not just because of the toys they could choose when they answered well.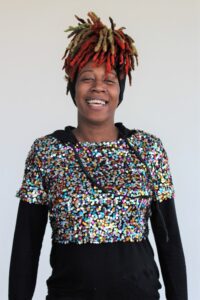 Shelter living gave Dena "a rare blessing": the ability to spend real time with her kids.
"Sometimes life gets so busy, you forget to focus on what's important."
But their time together at the Mission gave them a sense of unity and empathy. The girls were more open about their feelings and more understanding toward one another and their pregnant mom. "You've got to cherish those moments."
This past Christmas, everyone was delighted that there was "room at the inn" for Dena's beautiful new baby girl, a child she was not originally sure she wanted to have.  Dena already had benefitted from the staff's kindness, with extra rest and assistance when she had trouble walking with her growing baby bump. She also received all sorts of baby supplies—wipes, diapers, breast-feeding equipment. Then, right before the holiday, Dena delivered her fifth adorable daughter. The staff, delighted that Destiny LaFaith's first home was The Union Mission's Women and Children's Shelter, lavished her, too, with love and gifts. And Dena's adorable bundle of joy has hardly stopped smiling since.
December turned out to be even more bountiful than Dena's family expected. "I had told the girls that this year might not be the biggest Christmas since we didn't have much money." Dena's heart was warmed by their response: "That's okay, Mom. We have you." Still, it turned out to be one of the girls' best holidays ever. "Everything they put on their lists, the donors made it happen! It was a wonderful day!"
Another wonderful day came two months later. In late February, the family of six moved into a beautiful three-bedroom townhouse in western Chesapeake.  They'd almost signed leases on two other homes, but the staff thought one was not a good fit for Dena's family, and the other was housing that went to another shelter resident. Dena admits that at first she was disappointed. "House searching is stressful!" she says, "but God gave us something bigger, even better! Thanks to our case worker, we didn't even need to apply. We took it sight unseen on blind faith. And we love it!"
And the blessings continued after they moved in. The plumber who came to fix the sink noticed that they needed more furniture. His sister had just downsized to a smaller home, so he brought them a TV, a daybed, some side tables and chairs. When Dena asked if she could pay him, he declined. "God's got me," he told her.
"God's grace and mercy are a blessing."
Dena wants to bless others the same way she's been blessed. "After all I've been given, I want to pay it forward."
Dena was hoping to start a new job at a Norfolk shipyard where she'd interviewed when she was pregnant. "Most pregnant women don't want to work, but I did," yet the fire watch post she wanted was very high-risk and seemed unwise in her condition. Now that she's had her baby and has state-subsidized assistance and after-school care lined up, however, she's rethinking that plan. She recently interviewed for a retail store position with more flexible hours. It's right near their home and would give her more time with her girls. She's hoping for a return phone call with good news soon.
Happy as they are in their new house (with their new husky mix puppy, Apollo), Dena's entire family is looking forward to the day when the shelter can resume its Come Back and Visit parties. "I'm missing this place, actually," Dena says. "It grew on me. Mrs. Hall, Mrs. Hodges, Miss Myrick, Miss Ritchie, all the staff…they grew to be like family to us. I confess that we got a little spoiled here. We didn't want to leave."
"The Mission was like a tree of shelter, with many branches of resources to help my family. We really felt the unconditional love."
To see Dena's girls and discover what they had to say about staying here at The Union Mission, take a look at page 3 of our May 2021 newsletter. You'll smile, we promise!