Paul may look familiar if you're a Union Mission Anchor of Hope.

His smiling face appears on our monthly giving donation page, but he hasn't always looked so happy. His 67 years have had their twists and turns, but now Paul is back on the straight and narrow.
Born near Boston, Paul grew up in a military family that lived in Tidewater, Virginia. His dad was often deployed, and his mom raised him and his three sisters in Sunday school and church every week. "If you didn't go to church on Sunday, you didn't go anywhere else until Monday."
He wasn't a bad kid, but academics were never his forte, and Paul had friends who were bad influences. He also suffered from migraines, left-ear hearing loss, and depression. Plus, "we were a dysfunctional family."
Paul got some mental health counseling from the ages of 10 to 15, but by the time he was in the 8th grade, he was bored with school and ready to work. His parents allowed him to drop out as long as he could keep a job and help support himself. Though he lived at home as a teen, he worked in construction and carpentry for a home building company in Tidewater. Paul experimented with drugs and began to drink a bit. He thought about joining the Marines in his 20s, but he just wasn't ready. The same was true of moving out on his own. After six months he couldn't sustain it and returned to living in his parents' Ocean View home.
By 1980 Paul moved to Jacksonville, Florida, where his sister's family lived, and he found a good job filling warehouse orders for a lawnmower parts distributorship. He was renting a room in a house owned by a Navy pilot when an evangelistic team from a Baptist church knocked on the door. "My roommate didn't want to let them in, but I wanted to hear what they had to say." Even before they shared the Gospel, "I knew I was a sinner and needed to be saved." After Paul accepted Christ, things went well for a while. But then he met a girl at church and they "had a big fall into sin." Unhappy and alone after they broke up, Paul began drinking again, this time more heavily, and after another romantic relationship went sour, he decided to return to Virginia in 1988.
"I felt like I left God in Florida" and "spiritually, it was a dry time."
As Paul worked a variety of construction jobs during the day, he watched a lot of TV and soothed his emotional pain with drinking at night. Eventually he saw an ad in The Virginian-Pilot that the local newspaper was seeking weekend and overnight railroom attendants. By April he was working in Insert Distribution as a certified press operator. Paul loved the work and the camaraderie of being part of a team, and his life seemed back on track.
Looking for love in a Yahoo chat room, he met a woman who lived in the Philippines and traveled to meet her. In 2008, during his second visit, they got married and started the paperwork for her Green Card. But life overseas was more tumultuous than it was online. Paul stayed abroad for only three weeks "Our relationship never really took." They still speak, "only from time to time," but "so far there's been no reason to get divorced."
Paul had worked as a press operator for nearly a quarter of a century when the newspaper began to downsize and offered him early retirement. Between the buyout and cashing out his 401(k), he had about $50,000 in hand. "Like a dummy, I took it and spent all the money. Everything was going out, but nothing was coming in." The jobs he held were short-lived and he struggled to find fulfilling employment. He voluntarily repo'ed his car, and "after about a year, my funds dried up, and I didn't know where to go."
Curiously, his distant wife in the Philippines found The Union Mission online and suggested that he call. The intake manager said there was one bed available, and Paul was happy to fill that bottom bunk.
"What did I get myself into?" he wondered. "I was scared at first. I really didn't know what to expect, but it was Christ-based so I knew it was a good place to be."
The Mission helped Paul start to get his life back on track. He had previously earned his GED, but had neglected his health. The Mission's Wellness Team and the Bon Secours Care-A-Van helped Paul adjust his anti-depression meds and schedule important tests like a colonoscopy, and endoscopy. "I do have sleep apnea," but otherwise he's in good physical shape.
For six months, Paul participated in an intensive discipleship program that led him back to God.
"When I started going to Chapel and Bible studies, they preached the Word."
He also loved the fellowship he felt as part of a brotherhood, and enjoyed volunteering and learning more about the Mission's kitchen and housekeeping duties.
As Paul got to know the case managers, he appreciated that "someone important" accepted him in spite of some bad attitudes and impulsive actions of his. It gave him confidence and a sense of belonging that he had not experienced much before.
He's been here at the Mission longer than he'd hoped—some of that is due to COVID. He worked two days at a local mattress factory, then the pandemic hit. Paul got a mild case of coronavirus and was quarantined for 10 days, but like many could not return to his new job.
Paul is now part of RECLAIM, our transitional housing program to move residents toward independent living. He's moved up from a double into a single room—and he's taking advantage of new opportunities. He enjoyed his recent cooking classes, enrolled in Medicare, and saved up enough money to buy a used car.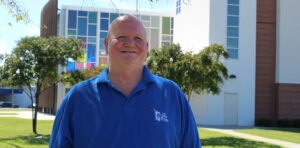 He also works full-time on the seven-man Operations staff at the Bashford Men's Shelter. "I've been wanting to get hired here since Day One." Paul worked with the team on a contract basis for a few months—"I was told I have a good eye for what needs to be done."—then was hired full-time.
"Wearing this blue shirt gives me a sense of belonging."
Since Paul usually is cleaning the floors before sunrise, it's convenient that he lives on the shelter's third floor, but he really wants to find his own place soon. He looked into some senior living spots, but they all had long wait lists. He's really hoping to find a great apartment and some roommates to share the rent. Plus, he'd like a cat.
Ministry is also on his mind. "I have a knack for making acquaintances," and "a lot of people confide in me." A natural conversationalist and humorist, Paul would like to learn more about how to help other men express what they are feeling, and how to encourage more understanding. "People have a preconceived notion of what homeless people are like: losers, junkies, lazy…But they don't know where they came from—or where they are going."
He's grateful to the Mission's Anchor of Hope monthly donors and our other supporters.
"The Union Mission gave me a place to stay and a purpose."
He wants everyone to know that they can trust that their donations are a good investment in "all-encompassing" help for those in need. "Being in the family here, you have access to more help, well, just more! The Union Mission provides everything you need to get your life right."
Thank you for supporting "God's people doing God's work."