The club life or being Christ-like? David, 26, grew up loving Jesus, but he also loved the nightlife. It wasn't always easy to choose which to follow.
He was born in Tennessee to Romanian parents while his father was in seminary. After his dad earned his Ph.D., they returned home, where his father later served in the European Parliament. That honor meant fortune and fame for David's family, but his parents traveled often for work. "I started as a very good kid, but I had some finances and I had a lot of free time. Nothing good came out of it."
In the fourth grade, some older neighbor kids introduced David to partying. "They didn't have money, so they snuck me out of the house and into a nightclub." The nightlife "captivated" him. At first, it wasn't the dancing, drugs, music, cocktails, or celebrities. "I liked the mystery—the different crowds, different lights, different vibe." In his teens and 20s, David even traveled the world to experience some of the most lavish and exclusive nightclubs. But after a few years, his party-hardy lifestyle felt empty.
"I knew I was doing wrong," but "I got hooked."
Wanting to change his life, David moved to Virginia Beach for his senior year. He lived with family, plugged into a local church, worked at Chick-fil-A, and graduated from high school. He kept his life on track as he studied military science at a college he loved. But after transferring to another school to major in national security, he grew homesick and depressed. Against his parents' warnings, "I started hanging out with the wrong crowd. That got me back into the old David… girlfriend after girlfriend, a lot of clubs and parties, not hurting anybody, just having a good time."
But weeks before his graduation, an "unexpected incident" with his ex and a "friend" led to an arrest warrant. David had never run afoul of the law, "not even a parking ticket." His attorneys urged him to turn himself in and he'd be out on bail in a few hours. It took nearly a week.
"That week my life changed 180°!" Desperate to calm his mind in jail, he asked a guard for something to read. "Guess what he gives me? Every time I opened that Bible, the Holy Spirit was speaking to me about exactly what I was going through. I knew there was a reason I was still there. God had to stop me to get my attention."
Unable to finish school or find work, David returned to Virginia, where he had changed his life before.
Driving around as he tried to figure out his next steps, he prayed: "God, there should be a place where I can just walk in and they would just take me as I am."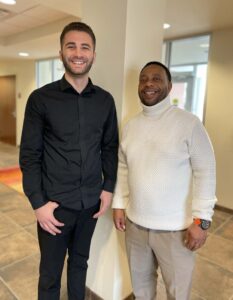 As David drove up Virginia Beach Blvd. a tall wooden cross outside a large building caught his eye. David decided he should stop by this church and see if they'd let him go in to the sanctuary to pray.
He turned into The Union Mission, where the Bashford Men's Shelter front-desk staff told him where he was. David was astounded that he had arrived at a homeless shelter when he didn't have anywhere else to stay. At intake, Lamont Harris, David Development Program Manager, listened as David poured out his problems. "There was no judgment," just an "it's okay, we'll take care of it together."
David thought to himself, "Man, this doesn't sound bad at all." With all the rules and free resources, "this is probably the best place for me to break my bad habits."
The Mission staff would offer him sound advice, ways to save, and stability. "I never expected my journey to lead me through here, but I'm thankful."
"You're not just getting a free bed and three meals a day, you're getting some spiritual help with the practical help. And that's combined with your mental, financial, physical, and emotional support. That's what I really like about this place."
Now David is working at a popular restaurant and as an organizer for a political candidate, and he's worked out a way to finish his classes to complete his college degree. He's experienced miracle after miracle, and most of the legal charges against him were dropped. "It gives me confidence that God is shining His face again on me. I know that He will work things out for me…and I know it'll be good."